Back
Cardlink at Delphi Economic Forum as the technological provider of the new ticket vending machine at the Archaeological Site of Delphi.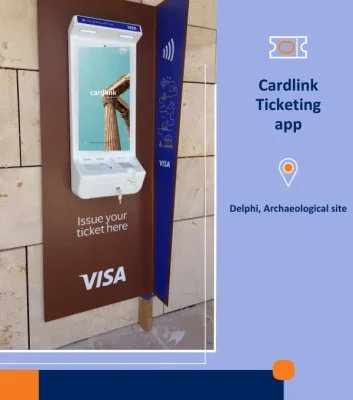 Cardlink, in collaboration with the Hellenic Organization of Cultural Resources Development and Visa, proceeded to the installation of an Android POS smart kiosk (SK800) at the archaeological site of Delphi that will operate as an e-ticket vending machine. Now the visitors to Delphi can issue their tickets simply and quickly and have an upgraded experience from the beginning of their visit to the site.
The new, modern and high-tech SK800 device offers an interactive and modern shopping experience and in combination with their custom easy-to-use software can serve any need. The vending machine is already installed and is available for testing by visitors to the Delphi Economic Forum, that is being held April 26-29.
The project that is fully funded by VISA Inc, is just the beginning of a long-term collaboration with the purpose of benefiting the visitors to the world's great Archaeological Sites and Monuments. The Hellenic Organization of Cultural Resources Development, aiming to upgrade its services to the visitors of archaeological sites, museums, monuments and other historical sites, has already planned the installation of vending machines in many more archaeological sites in the country.
Cardlink, a member of Worldline, a leader in the European payments and transaction management services, is always next to businesses, but also to any kind of institution or organization, that through innovation aims to improve the experience of citizens and consumers and contribute to the development of businesses and society. You can find more information about Cardlink's solutions can be found here.