Back
Black Friday… or maybe Black Saturday? There is a twist!
Black Friday; Black November; Is sales performance really so impressive that businesses choose to extend their promotional offers for almost the entire month of November? The answer is "yes", Greek consumers love Black Friday and invest more and more each year in products from various industries. Let's prove it with data!

2022 makes a difference and introduces Black Saturday
At Cardlink we are always ready to serve simultaneously thousands of transactions! This year, the week of Black Friday had a surprise in store for us:
The peak of transactions/minute was reached on Saturday 26/11 with 4,392 transactions!
Each year is better than the last/Better performance every year

The current year may have been affected by the energy crisis and rising inflation, but consumers were still very active during Black Friday. After a very big drop in 2020 (-30%), in 2021 and 2022 we see an upward trend in total transactions on Black Friday (+9% in 2022 vs 2021).
Top 5 sectors in total turnover (physical & online stores)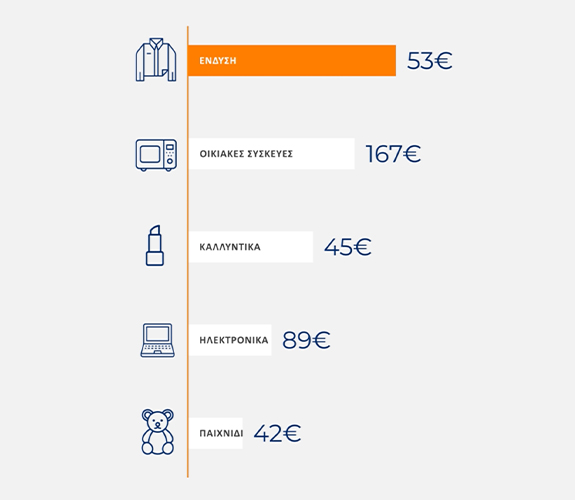 Another twist! Apparel takes the lead in total sales on Black Friday from the popular home appliances category, and cosmetics are doing so well that we won't be surprised if they're in first place next year! A new entry in the top 5 is toys, probably … Santa decided to get organized early this year!
No1: Men/Women's clothing (average amount per purchase: €53)
No2: Household appliances (average amount per purchase: €167)
No3: Cosmetics (average amount per purchase: €45)
No4: Electronics/telecommunication goods: (average amount per purchase: €89)
No5: Toys (average amount per purchase: €42)
What is happening in e-commerce?

More and more consumers are choosing to shop easily, without crowds and checkout lines. We are noting that in 2021 these rates were 4 times higher due to the pandemic that made people hesitant to visit stores.
Top sectors in number of transactions/e-shops (Black Friday week vs previous 3 weeks)
Household appliances: +131%
Electronics/telecommunication goods: +100%
Men/Women's clothing: +98%
Cosmetics: +66%
Top 5 sectors in percentage difference regarding the number of transactions (physical & online stores)

On Black Friday 2022, home appliances took the lion's share and saw the largest percentage increase compared to the average number of transactions on the previous Fridays of the month. Accessories, clothing, and shoes continue to rank high in consumer preferences.
Household appliances: +140%
Women's accessories: +108%
Men's/women's clothing: +105%
Shoes: +94%
Electronics/Telecommunication goods: +88%
Extra info!
Installment transactions increased by 202% on Black Friday 2022 compared to the average of installment transactions on the 3 previous Fridays in November.
* Cardlink collects and processes data regarding card transactions carried out at partner businesses.