Back
Self-service ticketing at archaeological sites without queues and delays with the SK800 smart kiosks and Cardlink's custom application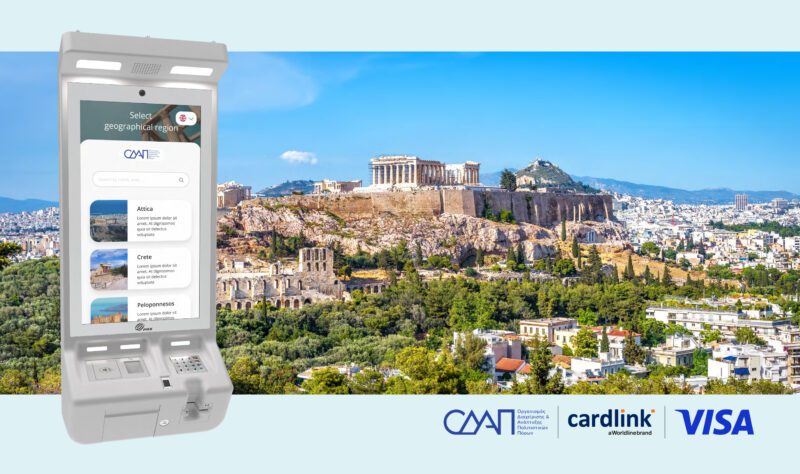 The challenge
Greece's archaeological sites attract millions of tourists annually, who often face long queues and delays at ticket offices, especially during peak hours due to the large number of visitors and the limited number of ticket offices. These delays affect visitors' experience, while the option of self-service ticketing is not offered.
Recognizing the need to modernize and digitize the ticketing process at Greece's archaeological sites, Visa in collaboration with the Cultural Resources Management and Development Organization (ODAP) sought a reliable partner for the implementation of an integrated vending solution, aiming to further enhance the service and ticket booths and to decongest the cash registers. The goal is always to improve the level of service offered to visitors through giving the option of self-service and reducing the waiting time. It was therefore a very demanding project, as the proposed solution needed to be reliable and capable of handling a large volume of visitors on a daily basis.

The solution
The Cardlink team, acting as the technology provider for this project, designed and implemented a special, integrated ticketing solution, both in terms of software and hardware.
More specifically, the company has installed the state-of-the-art SK800 vending machines with Android software. The SK800 smart kiosks offer an upgraded experience in self-service transactions thanks to their innovative features that enable contactless payments by card, smartphone or wearables. They are easy to use, so that each transaction is fast and visitors to the archaeological sites can choose the type of ticket they want to buy, pay and receive it immediately, avoiding delays and waiting in queues.
At the same time, in addition to the installation of the devices, Cardlink designed and developed a special all-in-one application for the issuance and management of tickets. Cardlink ticketing is a modern application suitable for museums, archaeological sites, festivals, theatres, cinemas, etc. which offers the possibility to issue, pay and print tickets through a single device, uniquely serving the need for self-service.

The implementation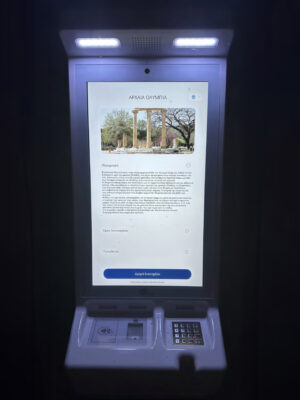 So far, the SK800 smart kiosks together with Cardlink's ticketing application are operating efficiently and reliably at the main entrances of the Acropolis, Ancient Olympia, Epidaurus and the Archaeological Museum of Delphi, serving thousands of visitors, while new archaeological sites will be added gradually.
The installation of vending machines in the archaeological sites has led to a reduction in waiting time for ticketing, while visitors have been further facilitated by the possibility of issuing tickets with more payment methods. In addition, it contributed to the progress of the country's digital transformation in the field of visitor services and payments, while strengthening the tourism sector.
Combining its national expertise with Worldline's international experience, Cardlink remains firmly committed to providing innovative, customized and technologically advanced solutions to any small or large need in the payments sector, helping to solve industry challenges and enhance digitalization.
The benefits
Upgrading the touristic profile of the country and of the organizations that implemented the project (Visa, ODAP, Cardlink)

Increase in sales:

Ability to serve more visitors per day
"Visitors in our country expect easy-to-use and secure payment solutions and we at Visa continue to develop partnerships to create new products and services that enhance their experience. The installation of automatic ticketing machines at the archaeological sites of Acropolis, Ancient Olympia and Epidaurus, as well as at the Archaeological Museum of Delphi, is an important milestone in the digital transformation of the tourism industry, as it simplifies access while reducing complexity. We are delighted to see such a positive response."
Nikos Petrakis, Visa Country Manager Greece